Pre-Paid Recycling: The Easy Way to Go Green
Electrical Products and Solutions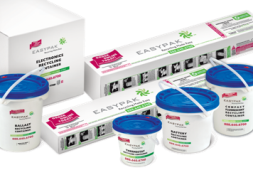 Pre-paid Bulb Recycling Systems Negates Liability and Health Concerns
The social mandate to "go green" may seem like one more headache for office managers responsible for creating and policing recycling programs for hazardous and other waste.
Yet tackling the complex problem now may very well avert far greater ills, such as stiff fines from regulatory agencies and a tarnished public image.
Non-industrial companies are most at risk because often they are unaware of state, local, and federal Environmental Protection Agency (EPA) laws. These laws make it illegal to improperly dispose of such common items as spent batteries and fluorescent bulbs. In fact, due to the mercury content in fluorescent, mercury vapor and other lamps and lamp fragments, the federal EPA says recycling is the best way to dispose of these materials.
Faced with the challenge of recycling hazardous waste, which requires storage space, proper containers, and the staff to implement the system, some office managers may be tempted to ease their burden by tossing the newer, non-hazardous low-mercury lamps into solid waste landfills. But if they do, they may be in trouble, because some states prohibit such practices.
Make no mistake that the discovery of illegal dumping habits may force the EPA to slap a company with penalty fees in excess of $250,000. Even worse, a delinquent firm could be forced to clean up a remote and costly Superfund site.
But the more destructive result may be the public perception that a company that defiles the environment is not a good neighbor, which could lead to a public relations nightmare.
Sleep Easy with a New Maintenance System
Mark Funkhouser sleeps peacefully now that he has found a solution to his recycling woes. But it wasn't always that way. Four years ago when he was appointed custodial services manager for the Chumash Casino Resort in Santa Ynez, Ca., Funkhouser inherited a recycling program that was at best clumsy and inefficient.
Funkhouser's 120-person staff would round up spent batteries and fluorescent lamps at the large resort complex and drop them into garbage cans. When the cans were full, Funkhouser would either call a local recycler to come haul away the debris or he would locate an available resort vehicle and have one of his staff drive the refuse to the recycling site. The method of disposal was a drain on Funkhouser and his staff.
"We wasted a lot of time coordinating the pickup or drop-off of recyclables," he said.
Yet Funkhouser knew that recycling was important to the Chumash tribe members who own and operate the facility. Often he would hear tribe elders talk about their concerns for the earth, and knew that anything less than a vigorous recycling effort might make his employers appear hypocritical. The resort now recycles about 30 percent of the 300,000 pounds of garbage generated each month.
"We're a Native American firm, and we're very respectful of the earth. We need to do our part," he said.
The turnaround for Funkhouser came two years ago when he discovered the EasyPak ™ Recycling Program offered by Air Cycle Corporation, of Broadview, Ill. The unique service freed the custodial staff of sole responsibility for disposing of spent bulbs and batteries, and improved awareness of recycling among the Chumash Casino Resort's 1,600 employees and their guests.
For one pre-paid fee, Air Cycle provides the resort with the whole works – storage containers for bulbs, batteries and ballast, shipping to the recycling center, recycling fees, and even a certificate of recycling. Yet very little paperwork is involved.
Funkhouser said EasyPak™ boxes of various sizes are placed in the resort warehouse where engineers drop off spent fluorescent lamps. Plastic buckets are placed throughout the resort – in public areas, as well as the employee dining area – so that spent batteries and ballast can easily be collected. When the containers become full, they are sealed by custodial employees who then place the boxes and buckets on the loading dock, where FedEx Ground picks them up and takes them away.
"It's definitely solved that problem. Basically, now my department doesn't have to get involved anymore. All we do is order the boxes. The Engineering Department calls us when they're full and we walk them up to the loading dock. We don't even have to call anybody, because Fed Ex already comes twice a day," said Funkhouser.
Although spent fluorescent lamps – about 200 per month, large and small – present the largest problem, spent batteries are a close second. Each month the resort recycles about 100 double-A batteries used in the wireless headsets and microphones needed to manage concerts and other events.
Also, resort employees who meet and greet the public all wear badges that flash the monthly give-away promo. When the small batteries needed to power the badges wear out, employees simply drop them into one of the buckets situated in the three-story gaming facility and four-story hotel. The buckets have inspired recycling questions and respect from guests.
"It raises awareness, definitely. We have so many buckets out there, everyone knows we're concerned with recycling – employees and guests," he said. "Before, there wasn't any awareness that we were recycling. Now we place buckets where the end-user is going to see it and help us recycle. With sixteen hundred employees, that's a lot of batteries," he said.
Air Cycle CEO Scott Beierwaltes said that when his firm began offering the pre-paid EasyPak™ Recycling Program little more than a year ago, they serviced only a "handful" of clients. Now they have more than 4,000 facilities utilizing the program.
"We weren't sure how many would participate. Now demand is growing in the neighborhood of 15 percent per month. It's become surprisingly popular," he said.
Beierwaltes said environmental laws are far more stable now than they were years ago. But some layers of complexity remain because the federal EPA has allowed states to write some of their own variations on environmental guidelines. To help prospective clients sort through the morass of state requirements, Air Cycle's website links to EPA guidance documents.
"We work with them to understand their facility and location. Some staffs are so overwhelmed, the thought of spending extra time on their spent bulbs is a major turnoff," he said, adding, that while some people don't care about illegal dumping, many others want to do the right thing. "They just haven't been exposed to a good idea, something they can get behind."
Air Cycle has also created the Bulb Eater ™ for large firms that prefer crushing fluorescent lamps on site. The ingenious, airtight device stores lamp debris in a protective steel drum. When the drum is full, Air Cycle arranges for it to be taken to a local recycling plant.
Prepaid Mail-In Recycling with Air Cycle
EasyPak™ prepaid recycling containers are perfect for recycling spent fluorescent lamps, ballasts, batteries and electronic waste at facilities of less than 150,000 square feet.
The EasyPak™ program comprehensively meets facility recycling needs by offering automatic container reordering, online container tracking, and web-based recycling reports and certificates of recycling. Learn more » EasyPak™ recycling features